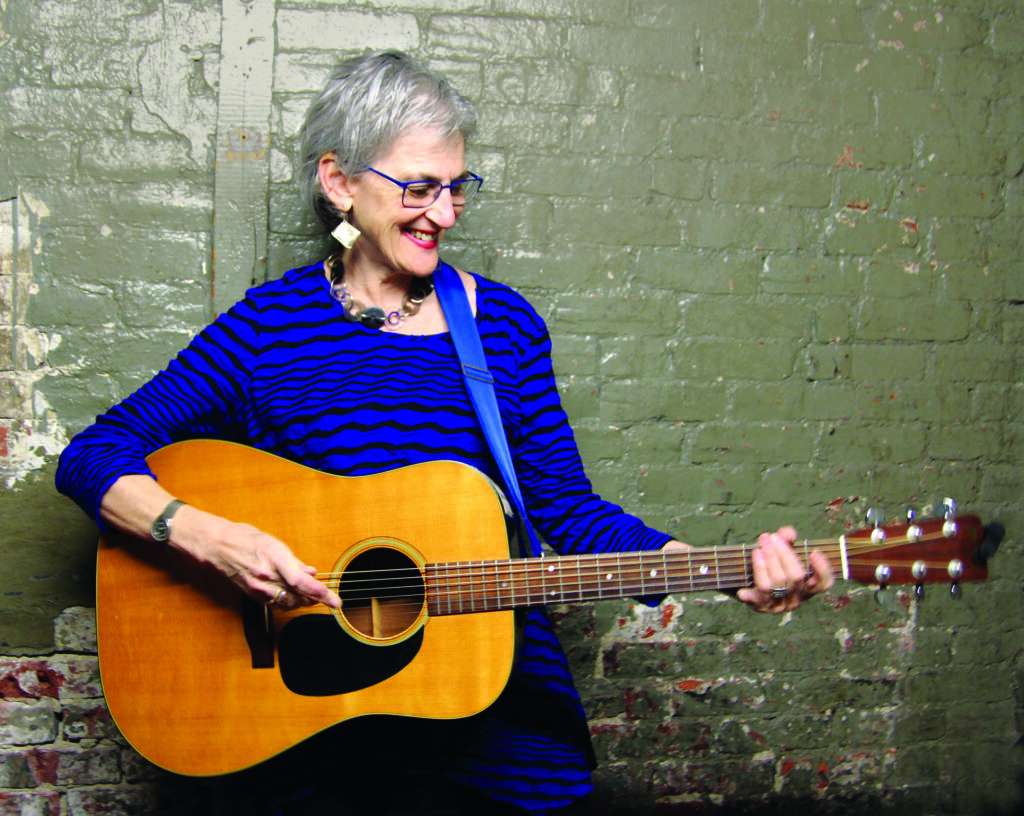 I like to say I began my life as a singer with my father. We'd mosey up Tioga Street in my native Johnstown, PA, heading for two little stores at the top of the hill. My Dad would buy his daily cigar at the Tioga Street Market and then we'd stop next door at Jake's where I'd get an ice cream cone. My Dad had a sweet voice. Though he was too shy to sing in public, he was happy to share his limited repertoire with me. We'd stroll along singing "Oh Susanna," "I've Been Working on the Railroad," and the like. This routine began as soon as I was old enough to walk up that hill, and continued till I was a teenager, when walking with a parent for pleasure just became too uncool. Lucky for me, my dad lived to be 101, long enough for me to mature and resume walking together deep into his old age.
My Older brother, by seven years, returned home from his freshman college year with the first Joan Baez album. There began my love affair with folk and acoustic music. I spent the rest of my years at home, in the basement rec room with my ears glued to the hi fi. Although my own family's routes stretched back to the Jewish shtetls of Eastern Europe, we were living in Appalachia. The musical traditions of the mountains seeped into my unconscious and seeded my native affinity for the sound of old-timey, country and bluegrass.
When I moved to Boston from Ann Arbor, MI, in the early 70's, I had already begun performing traditional Appalachian and topical music. A little investigation and lucky timing brought me quickly into contact with some local women musicians (Marcia Deihl, Kendall Hale, Lannie Liggera, Pat Ouellette and Katie Tolles) who also wanted to sing not only traditional songs, but also songs that spoke to our own emerging social and political awareness. We formed a string band, calling ourselves "New Harmony Sisterhood," and spent the next six years performing all around Boston and beyond for women's events, union organizing actions and folk audiences. It was a time of tremendous hopefulness which inspired me to delve more and more deeply into my own songwriting. Most of these songs found their way into the New Harmony repertoire. Eventually we were approached by Paredon Records to make a album. In 1977, we released "And Ain't I A Woman?" Paredon was eventually absorbed into the Folkways label. The Folkways catalogue became part of the American Folk Life Collection at the Smithsonian which is where New Harmony's album can still be found today, representing its role in the evolution of American folk music.
When New Harmony disbanded in 1980, I joined forces with some mainstay members of the Boston bluegrass scene. Eric Levenson, Paul Silvius, Howie Tarnower, Steve Watt and I began performing around town as "Fire on the Mountain." I continued with my songwriting and when "Fire on the Mountain" members went their separate ways, I began concentrating on a solo singer-songwriter career. While still strongly bluegrass influenced, my repertoire expanded to include a more varied range of acoustic styles. With the support of Eric and Howie, I recorded a solo album of original compositions. "Around the Next Bend" was picked up on the Flying Fish/Rounder label and was nominated for Folk Album of the Year in the 1988 Boston Music Awards.
As is true for artists of all genres, I eventually found myself coming up hard against the conflict of being a working musician and also wanting a home, family, children and the dependable means to support these desires. Around this time, I made the difficult decision to prioritize a career as a psychotherapist. I got married and began raising my daughters. My music moved to the rear of the family-career train. But good luck crossed my path again in the early 90's. I joined forces with three local women singers, Gail Finnie, Anne Goodwin and Rebecca Pugh. We formed an a capella quartet, calling ourselves Taproot. I began writing again and many of those songs found their way into the Taproot repertoire. We recorded two albums together: "If You Build It," in 1997, and "Grand Design," in 2001.
When Taproot took a hiatus, I decided to take my longtime desire to try my hand at painting, seriously, and found myself diving into a whole new creative direction. I devoted myself initially to watercolor, eventually working my way into mixed media. The painting on the front page of the website is of the Conemaugh Gap, heading west out of Johnstown, toward Pittsburgh.
My temporary diversion from the music scene unexpectedly stretched into years. Eventually, with children off to college, I began to feel a deep longing to be making music again, along with the disconcerting awareness that my music train had left the station, my seat long since filled by others. How to get back on? It seemed almost impossible.
The Boston area continues to be one of the centers of the acoustic music universe with its robust options of Open Mic venues. Prior to the Pandemic, one of the oldest and most venerable of these was at the Cantab Lounge in Cambridge's Central Square. Legendary musician and Open Mic host was the esteemed Geoff Bartley. Geoff knew me from way back and offered me a featured performer spot. I pulled out my old standards and pulled together some of my old band buddies. When a full house of members of my old music community turned out for my 10pm, Monday night set (bear in mind, we weren't young anymore!) I knew there was no turning back. So began the next chapter in my music career. I've always preferred singing with others to standing on stage alone…the harmonies, the blend of instruments, the camaraderie…it's a joy unlike any other. Another wonderful stroke of good fortune, along with some serious 'putting the intention out there' on my part, led me to cross paths with Boston rock and blues musician, Eric Wells. We were an unlikely duo, but Eric liked my songwriting, dusted off his old Martin and joined me on stage. Eventually my old bluegrass bass playing buddy, Eric Levenson joined us, as well as musician and studio owner Eric Kilburn. Thus was born The Band of Erics. A short while later, fiddle whiz, Art Schatz infiltrated the group after agreeing to go on stage as Eric (just kidding). In 2016, The Band of Erics, along with several other fabulous Boston area studio musicians backed me up on the recording of my latest solo album, "Precious Time."
One song that did not make it onto "Precious Time," is Riveted. I wrote Riveted in the lead up to a gig at a National Women's Radical Political History conference at Boston University where Marcia Deihl, one of my old New Harmony Sisterhood bandmates, and I were to sing songs from the Second Wave women's movement. I had thought long and hard for many years about my mother's generation of women, the post-WWII generation, the women who helped win the war on the home front as riveters, teachers, and everything in between, only to be shuffled off to the suburbs with nary a medal to their names. The song went over well at the conference and left me pondering a family drama imbedded between its lines. I was a songwriter, not a playwright. I imagined a musical built around this story line. I would write the songs. I just needed to collaborate with a playwright. After a few years of turning the idea over in my mind and talking to a bunch of writers, one of them convinced me that I needed to write the play myself. Ridiculous, I thought at first. But if I've learned anything in the course of my life, at this point, it's to not underestimate the power of a strong intention. Now, seven years, 16 songs and three dramaturges later, I have a full length script in hand.
In 2021, I packed up my five-decade Boston life and moved with my second husband, Jim, a thousand miles south, back into the Appalachians, this time in Asheville, NC, with my budding musical in tow. My latest trifecta of good timing, luck and intention has brought me into connection with Asheville's Magnetic Theater Company. Magnetic has chosen Riveted to be part of their New Play Development Program. A staged reading was held at Magnetic Theater in January, 2023. Magnetic will be staging a full production of RIVETED in June, 2024.
My musical journey continues to be one of discovery. Thank you for tuning in!